NEPA Gives – 24 Hours of Giving!
June 1 @ 7:00 pm

-

June 2 @ 7:00 pm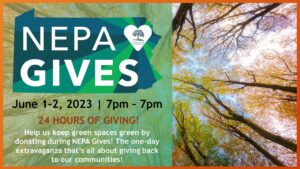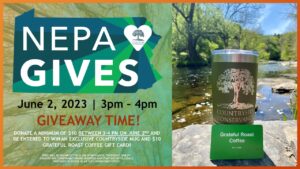 If you love our preserves & trails, and want to see more of them, please donate to the Conservancy during NEPA Gives to help us win additional cash prizes!
We'll have a special giveaway for those that donate between 3-4pm on Friday, June 2nd so stay tuned!!!
We are fortunate to have a total of $5,500 in matching funds, so every donation up to that amount will be DOUBLED thanks to the following generous donors!
– $5,000 from Coterra Energy
– $500 from the Nancy Luciani and Darryl Lock Charitable Fund
The link to donate will be live Thursday, June 1st at 7pm—> Give to Countryside Conservancy | NEPA Gives