Moonlight Paddle
August 26 @ 7:00 pm
Free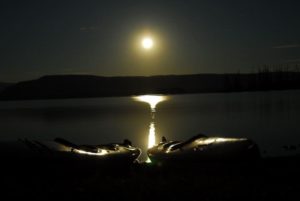 Come out to Lackawanna State Park for a moonlight paddle with friends!
We have 14 single kayaks and 2 tandem kayaks to borrow – first come, first served. You are also welcome to bring your own.
Registration is required. Reserve your spot by calling the Countryside Conservancy office at (570) 945-6995 or by email at chris.butt@keystone.edu. This event is limited to 30 individuals. Participants must have prior kayaking experience. Check-in will begin at 7pm and we will launch at 7:30pm. We will be meeting at the South Shore/ Kayak Mooring parking lot off of State Route 407.
Just a few things to note for Saturday:
The chance of rain/storms may necessitate a last-minute cancellation, check the weather before you leave home. In the event that we need to cancel, we'll make that announcement on our Facebook Event and on our website by 4pm. If you have reserved spots for yourself AND additional guests, please be sure to forward this info to your guests.
Per park rules, be sure to bring a white light. Each boat will require one and your hosts WILL NOT be able to provide one for you. Any household flashlight or headlamp will do. If you are bringing your own kayak, be sure to have a valid launch permit!
We will meet at the South Shore Boat Launch between 7-7:30pm. Launch is at 7:30. Please arrive early to complete your release forms. Follow this link for directions to the launch site –> https://www.google.com/…/data=!4m4!3m3!8m2!3d41.554373…
Important things to consider:
– Gear: We will have your kayak, paddle, and life jacket (PFD) for you, unless you indicated when registering that you are bringing your own equipment. To minimize the risk of spreading aquatic hitchhikers into new locations it's a good idea to wash your kayaks if you have visible mud or debris.
– Miscellaneous Items: Consider bringing other gear for your comfort, such as rain jacket, drinking water, snack, etc.
– Safety: All individuals are to have basic paddling experience. A PFD will need to be properly worn during a State Park-led paddling program. No one under the age of 9 may be in a boat by themselves. Those under 15 must be accompanied by an adult.