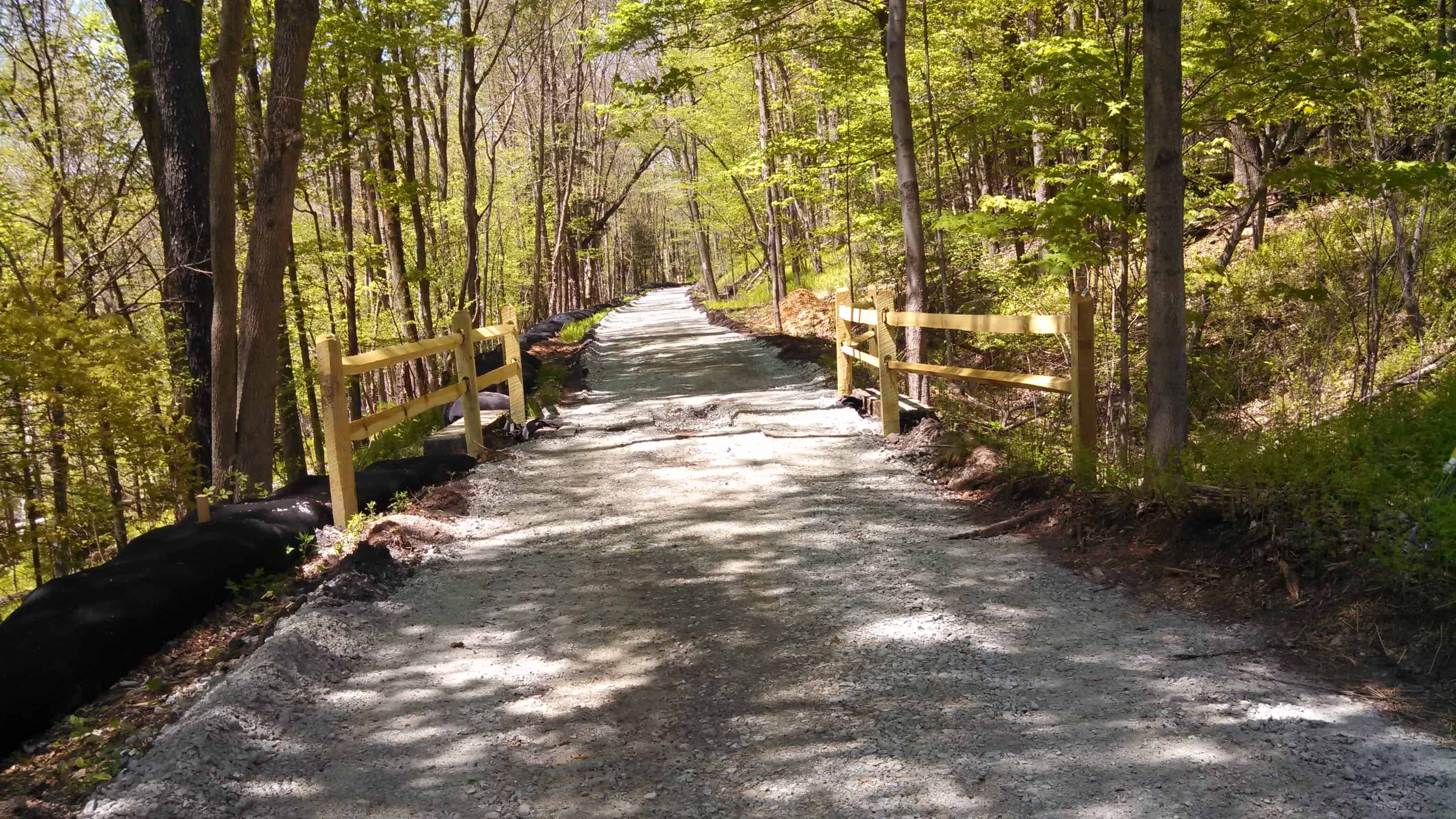 TRAILS
Trails are a simple yet profound way of getting people into the outdoor environment—getting them out of buildings and cars, into a place where they can smell water, touch leaves, hear birds, and feel the wind on their skin. Countryside Conservancy promotes trails for their benefits in getting people in touch with nature.
Trails on Preserves
Countryside Conservancy manages 264 acres of lands and waters to protect their conservation value. Most of these acres are open to the public for visitation, and many have trails. We thank our many volunteers, especially groups led by Joe Tierney around Lackawanna State Park, for the countless hours they have put in on trail construction and maintenance!
PLEASE NOTE: Conservancy trails are for non-motorized use only and are open from dawn to dusk.
Click on a tab to view details of the trails, view printable trail map, or watch a video of the trail.
The first and second passages of the Trolley Trail are now open!
Passage 1 of the Countryside Conservancy Trolley Trail moves along from Clarks Summit to Dalton, including the connector to Ackerly Little League Fields. PASSAGE 1 MAP
Passage 2 continues the Trolley Trail as it winds it's way along a 1.5-mile segment adjacent to portions of the Keystone College campus. PASSAGE 2 MAP
The Trolley Trail is a critical piece of Countryside Conservancy's envisioned 14-mile public hiking and biking trail that follows the abandoned Northern Electric Railroad Line which will ultimately run from Clarks Summit to Lake Winola. What started as something of a tangential project has quickly become another means of conservation work and an opportunity to showcase the value that the Conservancy adds to our region. Along with hubs of focused conservation efforts in Lackawanna, Susquehanna and Wyoming counties, the Trolley Trail is a linear corridor of outdoor recreation for residents and also a connector of conserved lands. While our parcels of protected land along the Trolley Trail are much smaller than our other preserves throughout the watershed, they are no less significant due to the high development pressure in the Abingtons.
As the Trolley Trail extends into Wyoming and Susquehanna counties, even more of our preserves will be linked and made more accessible to trail users. We also see the Trail as an introduction to the many other properties that have been protected by the Conservancy.
Take a ride on the Trolley Trail with our video. Click Here
Download the Trailforks Mobile App for a trail guide at your fingertips
Joe Tierney and other volunteers have created many miles of trails within Lackawanna State Park and neighboring lands owned by Countryside Conservancy. These trails are mainly designed with mountain bikers in mind, but are also great for hiking and walking. Anyone interested in helping to build and maintain this incredible trail network should contact the Conservancy. We thank Joe and his partners for the countless hours they have put in on trail construction and maintenance!
Please follow trail etiquette when on the trail: bikers yield to walkers, and everyone yield to horses. Thank you!
Below is a video created by Joe as a small sampling of the mountain bike trails in and around Lackawanna State Park. The rock-wall ride at 0:42 is a particularly challenging feature on the Conservancy's Meadowsweet Preserve.