March Moonlight Hike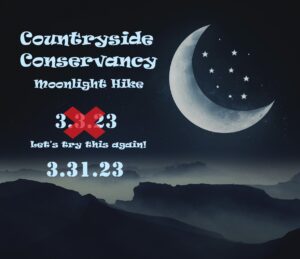 Join us for a 2.5-3.5 mile hike under the moon at our Quarry Ridge and Meadowsweet Preserves!
Bring your headlamps and snowshoes (if conditions warrant). We'll meet at the Lackawanna State Park South Shore parking area off of 407. We expect to be out for 1.5-2 hours. Pooches are welcome and will need to be on a leash.
Hike difficulty level: Moderate
– someone in good hiking condition
– trails are generally in good condition
– slightly increased mileage
– moderate elevation gain
This is a free event and there is no registration required. Just show up and have fun!